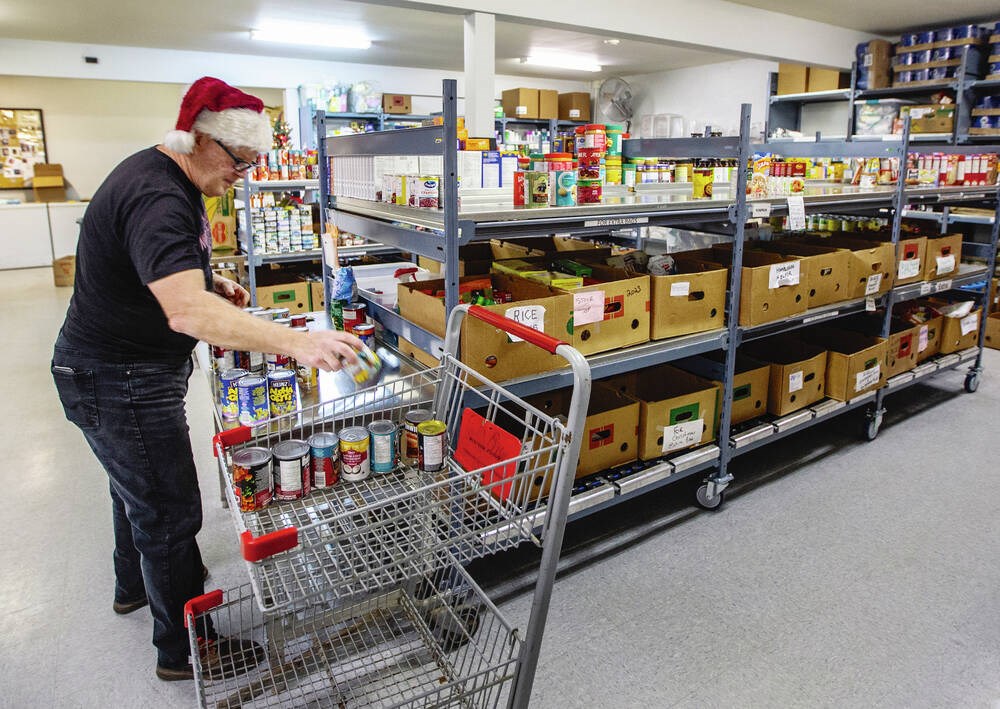 West Shore Food Bank is doing everything to ensure customers receive baskets
The Goldstream Food Bank was successful in overcoming supply issues this month, which is good news for those in need on the West Coast.
It did so with the generous help of community groups, nearby residents and students, according to Goldstream Food Bank vice president Walter Dubeau. "The West Shore community has supported us. We started to receive food the first week of December. It has been a wonderful experience. I have never seen so much food come in here.
Food security is an issue throughout the year, but the food bank works to provide every family in need with extra help this Christmas, with help from organizations like the Times Colonist Christmas Fund. With generous donations from our readers, the Christmas Fund works with local agencies to distribute money to groups like the Goldstream Food Bank.
A portion of this year's donation went to the Food Bank's Christmas Basket Program, which provides customers with a gift card for a Christmas celebration and dinner. Parents of each child under 17 also receive a gift card for a toy of their choice.
Nearly 600 people will have received assistance through the basket program by the time the last gift card is delivered, Dubeau said. "It has been difficult to get food all year round, but donations are not declining. We weathered the storm very well. It was better than expected.
Residents of Colwood, Langford, View Royal, Highlands and Metchosin are eligible for the year-round basket program, but no one who contacts the Goldstream food bank will go hungry, Debeau said. He often refers clients at his doorstep to other agencies if they live outside of the West Shore communities, but they will be looked after without hesitation.
"If they ask for a basket, we'll gladly give it to them," Debeau said. "We've been working hard over the past few weeks, making sure all customers receive their baskets. "
Christmas is not the only busy season for the Goldstream Food Bank. Dubeau, who has volunteered with the company that runs the food bank since 2006, said he saw an increase in the number of people using the food bank's services this year. "Compared to last year, we're probably up about 20%. "
This makes life more difficult – but ultimately more rewarding – for the volunteer-run organization.
"The money we are given goes directly back to the community. Aside from a few operating costs, the dollars go a long way, "Debeau said.
Money raised through the Times Colonist Christmas Fund goes directly to the community, to over 20 organizations in Greater Victoria, the Gulf Islands and as far north as Campbell River. This year's recipients include The Salvation Army, which is our biggest recipient, as well as Mustard Seed Street Church, Our Place, Victoria Women's Transition House, Nourish Cowichan, and 1 UP Victoria Single Parent Resource Center, among others. .
The resulting funds donated to the Goldstream Food Bank lead to more hindrance and help.
"It's a great feeling," said Dubeau. "It can be heartbreaking at times, but it is very gratifying to see the good we are doing in the community.
HOW TO MAKE A DONATION
• Go to our fundraising page at timescolonist.com/donate; which takes you to the Canada Helps website, which is open 24 hours a day and provides an immediate tax receipt.
• Send a check to the Times Colonist Christmas Fund, 201-655 Tyee Road, Victoria, BC V9A 6X5.
• Use your credit card by calling 250-995-4438 from 9 am to 1 pm Monday to Friday.