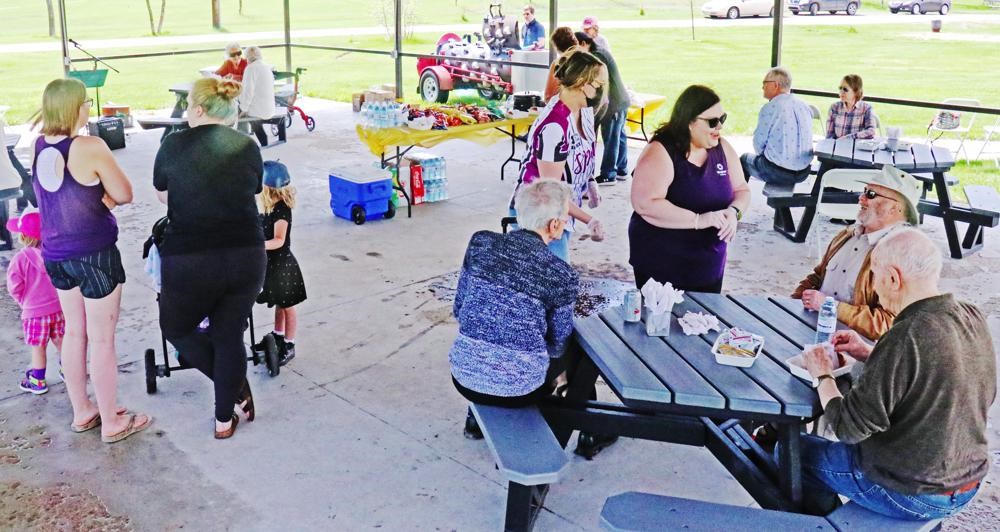 Visually impaired patrons return to INCA at Weyburn BBQ
WEYBURN – The Canadian National Institute for the Blind (CNIB) wanted to 'welcome' its patrons to the Weyburn area and hosted a free BBQ for them on Saturday at Weyburn's River Park Lookout.
Weyburn Credit Union staff volunteered to serve the food and entertainers provided music for those attending the barbecue.
Staff from the CNIB office in Regina were present, including Ashley Nemeth, CNIB Provincial Director for Saskatchewan and Manitoba, and her guide dog Danson.
CNIB hosted a free BBQ for its clients to welcome them back to CNIB's in-person programs. The agency is one of the organizations participating in the Weyburn Communithon fundraiser under the Regina United Way.
"Across the country, we wanted to hold 'welcome' events," said Nemeth, who noted that many programs either couldn't go ahead or were offered virtually through programs like Zoom.
Two of those barbecues were planned in Saskatchewan, she added, this one in Weyburn and next week in Prince Albert.
In Weyburn, there had been a peer support group helping the visually impaired in the town and region, but it has not been able to meet since before the pandemic, and now there are plans to relaunch it.
Nemeth went from table to table with Danson to meet the customers who were leaving.
She noted that she's had Danson for about three and a half years now, and the couple were among the first to graduate from the CNIB's guide dog program. Danson is part Lab and part Golden Retriever, which Nemeth says is a good combination, and Danson is fully trained as his guide dog. She completely relies on Danson to help her, as she has completely lost her sight.