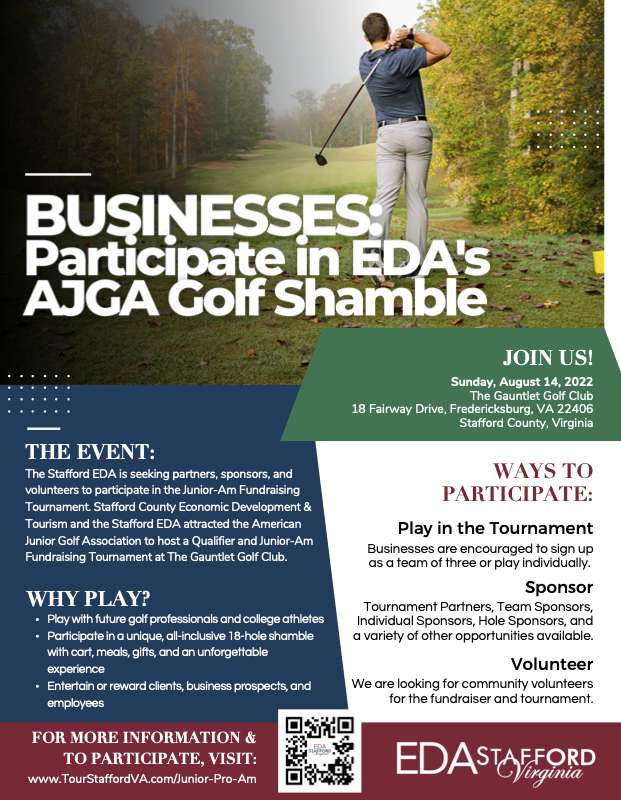 Reward customers and employees and play with the best in the region
What's a day like at one of the best golf courses in the area?
How about playing with future golf professionals and college athletes?
You can take part in a unique all-inclusive 18-hole course with a cart, meals, gifts and an unforgettable experience!
The Stafford Economic Development Authority (EDA) is seeking partners, sponsors and volunteers to participate in the Junior-Am fundraising tournament.
Stafford County Economic Development and Tourism and the Stafford EDA have attracted the American Junior Golf Association to host a Junior-Am Qualifying and Fundraising Tournament at Gauntlet Golf Club.
It's the perfect setting to entertain or reward customers, prospects and employees.
Join us at 2 p.m. on Sunday August 14, 2022 for the Shamble!
Participants must be received no later than Sunday, August 7, 2022.
Partner, sponsor or volunteer with us!
PLAY IN THE TOURNAMENT
Companies are encouraged to enter as a team of three or play individually. Register to play
SPONSOR
Tournament Partners, Team Sponsors, Individual Sponsors, Hole Sponsors and a variety of other opportunities are available. Sign up to sponsor
VOLUNTEER
We are looking for community volunteers for the EDA fundraising campaign and the AJGA Tour Stafford qualifier during the week. Sign up to volunteer