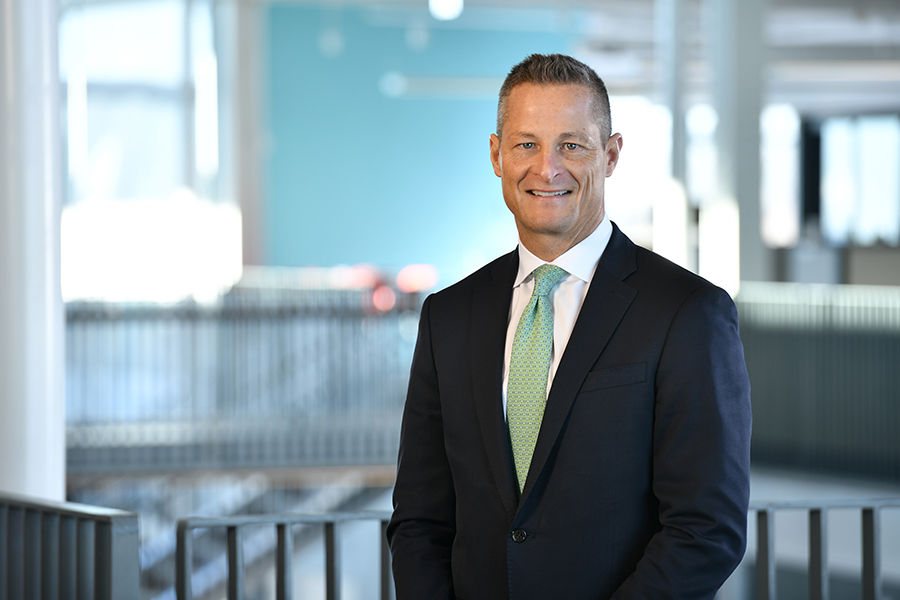 Holmes Murphy CEO: Technology that improves customer experience is key
Keough runs a 90-year-old independent insurance broker and industry player with over 1,000 employees and over $260 million in annual revenue. The Iowa-based company serves business and industry leaders nationwide in areas including property and casualty insurance, employee benefits, captive insurance, risk management and loss control.
In more than a decade as President and CEO, Keough has used his leadership position to help broaden Holmes Murphy and industry adoption of technology and startups that bring new ideas to the table.
Three years ago, Keough and Holmes Murphy co-launched BrokerTech Ventures (BTV), an incubator for broker-centric insurtech startups that also enables seed funding and startup access to brokers, wholesalers and carriers. M3 Insurance was the other co-founder of BTV, which now includes 15 superregional brokerage firms, 14 global insurance companies and wholesalers, and 48 insurtech startups, many of which have gone through BTV's annual accelerator programs. BTV has also expanded its accelerator programs to Israel and Latin America.
"Customer's Goal"
Holmes Murphy and M3 started BTV with the idea of ​​empowering insurance brokers "to help technology navigate its way through the insurance value chain," Keough said. He added that brokers are a logical instrument to help spot new technologies that can help the industry at large.
"As insurance brokers are the lens of the client, our understanding of our clients, their risks and their operations [and] our relationships with insurance carriers might be in the best position to help these tech companies connect, prove-of-concept, and really propel their success faster through our network," Keough said.
BTV helps selected startups through what Keough calls the Five Pillars. There is an annual acceleration program; early stage investment opportunities; a focus on innovation through conferences and programs; access to capital; and also the ability to tap into media and communication resources.
To respond to needs
As a leader of Holmes Murphy, Keough explained that his primary focus is on meeting customer needs, and technology interests flow naturally from that.
"My job is to make sure our business is able to provide solutions for our customers," he said. "They obviously want to be informed of the risks they face and try to do everything they can to avoid them, and a professional risk management consultancy thinks outside the box to provide solutions for our clients."
The same philosophy applies to BTV, with its identification of insurtechs and other startups that can help Holmes Murphy and the industry work better for their clients.
"We try to take what we learn and apply it in our own business, but we also try to help find the things that we think could help all of our businesses and propel [them] forward as well," Keough said.
Holmes Murphy scaled other startups before helping launch BTV, which Keough says gives the company a track record in innovation and startups big enough to have affected a lasting cultural shift within the company.
"For our firm at Holmes Murphy, we have woken up the people in the office who serve clients to start thinking about [the idea that] maybe there's a better way to do it than the way we do it," Keough said. "This change in mentality is a major asset in the way we serve our customers."
Innovation cycle
Some industry observers say the insurance industry has made great technological advancements. From Keough's perspective, the industry has been slow to adopt new technologies and is likely just getting started with what it will eventually accomplish in the digital age.
"Technologists, innovators and entrepreneurs believe that we are at the beginning of the innovation cycle, and therefore there could be more efficiency [and] … more technologies that are being scaled in the industry," Keough said.
Technologies that help improve the customer experience are worth watching closely as the industry moves forward, he said.
"We continue to see advancements in technologies that create a more enhanced and seamless customer experience. The ones we're really excited about are solutions that identify our customers' risks earlier and reduce costs faster," Keough observed.
An example of this, he noted, would be technology that helps automate the benefits or P&C insurance experience for Holmes Murphy employees and customers.
"The types of technologies used to achieve this are diverse and constantly changing," he said.
In the near future, Keough expects there will be more focus on integrating technology tools so they work better in tandem, especially when it comes to data.
"Going forward, you will have a more open data source, more easily accessible data for our customers," Keough said. "You will see information flowing freely that can be exploited in different ways."